What our clients are saying
Name: Steve Date: 19 Mar Subject: Thruxton
 We had a great ride out today courtesy of Frank and one his superb bikes. I chose the Thruxton, which was immaculately turned out and rode like a dream, a very smooth bike. Communication with Frank was instant and he delivered the bike on time and was there within minutes when I reported that I'd finished with the bike after my spin. I would definitely recommend this guy for the personal service he provides and his care and attention to detail. Top man. Top bike.
---
Name: Malcolm Date: 26 Feb Subject: Triumph Rentals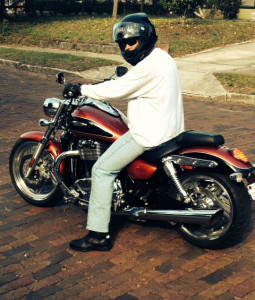 I have been renting from Frank for close to a year now!  I finally took the plunge and ended up buying my first motorcycle recently.  Frank has been nothing but professional, courteous, punctual and friendly every time I have rented from Modern Classic (which has been once or twice a month).  His bikes are spotless and well maintained to a point you could eat your dinner off one.  Frank is a true enthusiast, who loves motorcycles!  I recommend Modern Classic Motorcycle Rental to anyone who has an interest in riding truly great bikes!!
---
Name: Mitch Date: 12 Aug Subject: Fantastic Customer Service
Rented a T100 just for a 24 hour period – wanted to take a little chop around Disney property, maybe pop out to gatorland or whatnot.  I have to say, the bike was great, and Frank from MMR could not have been more helpful.  Delivery straight to out hotel complete with helmets and gps, tips on the bike itself as well as some basic ideas of how to get where we wanted to go and so on.  He arrived right on time for both drop off and pick up, and I could not have been happier with the experience.  Thank you so much Frank!
---
Name: Tony Date: 24 Feb Subject: Excellent
Rented a Bonneville for 8 days.  Frank delivered the bike on time to where I was staying and picked it up at the end.  The bike was in mint well maintained condition and never missed a beat.  The Bonneville is ideal for cruising the roads of Florida, comfortable, quiet and smooth with light weight handling.  Frank obviously cares about his bikes and customer service and all at a very reasonable price too.  Highly recommended.
---
Name: Bruce Date: 21 Feb Subject: Awesome Ride !
I own two Triumphs and was excited to learn that someone rented them out in Orlando while I was there visiting family.  Very reasonable rate for an eight hour rental.  Had a blast riding out to the East Coast.  Frank's rental operation is neater and more professional than a lot of motorcycle dealerships I've been in.  I'll definitely rent from him again!
---
Name: Fred Date: 3 Feb Subject: Thanks For The Great Ride!
Well, back home in the snow of the great white north and still relishing the memory of a wonderful February ride.  It was equally wonderful because of the bike and the route.  Thanks for offering a Thruxton as one of your classic Triumphs.  I was looking forward to trying it out as it really reminded me of the style of riding that I experienced when I began riding back in 70's and 80's but it was so much better than I had anticipated.  And the ride up to Cedar Key was a very enjoyable look at Florida beyond Disneyworld.
So thanks again for your welcome and your assistance and for your meticulously kept classic rides.
---
Name: Tim Date: 12 Dec Subject: A Great Experience Renting from Modern Classic
I was down in Orlando on business in December. Despite my ride getting delayed by work, MCMR handled it all gracefully. The T100 bike was in excellent shape and Frank made sure I was well launched for a great ride. It was really a happy break for me. Thanks so much!!  Have no hesitation renting from modern Classic.
---
Name: David from Toronto Date: 23 Oct Subject: My Rental
I just returned from Florida last week and had rented a Triumph Thruxton for one day.  It was a great experience and the owner, Frank was a pleasure to deal with.  He dropped off the bike at my hotel and picked it up as well.  The bike was spotless and in great condition.  I would not hesitate to recommend this company to anyone thinking of renting a bike.  Thanks again Frank for everything.
---
Name: Scott  Date: 11 Aug Subject: Best Day of Our Vacation!
The second I met Frank, I immediately felt comfortable renting from him.  The bike ran like a dream, and got way more attention than any Harley would.  We cruised from Orlando out to Clearwater on a perfectly sunny day, and couldn't imagine doing it on anything other than the Bonneville Frank set us up with.  It was the perfect fit for our day trip.  To top it off, Frank came to our rental house (which was half an hour from his shop) to pick up the Bonneville at the end of the day for a VERY reasonable charge.  If you're looking for a bike in the Orlando area, and you want something cooler than every other Harley you'll see on the road, go see Frank.  I promise you'll be happy you did.
Safe Riding!
---
Name: Wilfred and Willy from the Netherlands Date: 29 May Subject: Scrambler & Thruxton Bike Week 2012
Just want to thank Frank for renting the bikes during Bike Week.  Great service and the bikes were in excellent condition.  During the trip around Florida we had loads of positive comments.  We enjoyed every minute of it.  All this is what you hope for, if you rent bikes.  Thanks again.
---
Name: Rosa Freitag from Brazil Date: 6 May Subject: Great Bikes!  Great Service!  Frank, you're the best!
I don't like Harleys, and Eaglerider customer service is terrible (in my opinion).  So, I was very happy to find the Modern Classic Motorcycle Rental webpage when I googled "Triumph rental Orlando".  My husband and I rented two beautiful bikes, a Bonneville and a T100 for a day, and it was the best day of my Florida vacation.  We got compliments from many people, the bikes are beautiful and run like new, and Frank was very nice and helpful.  Hope to do this again soon!
---
Name: Bill Walsh Date: 5 Mar Subject: Highly Recommended!
While vacationing in Orlando with my family I decided to rent a Scrambler for the day from Frank.  Frank delivered the bike promptly when promised to where I was staying andthe bike was immaculate and performed flawlessly for my 270 mile day ride from Orlando to Daytona Beach and down the coast and back.  I look forward to renting from Frank the next time I'm in the area.
---
Name: Chris Graeser and Matt Doyle Date: 25 Feb Subject: Florida Moto Trip
My old friend Matt and I had been wanting to get together for a motorcycle ride for some time. I flew into Orlando, then picked up Matt at the Sanford airport and headed on to Ponce Inlet (site of the original Daytona beach races) for the night. In the morning we loaded up and headed back in to Orlando to meet up with Frank at Modern Classic Motorcycle Rental to pick up our Bonneville (Matt) and Scrambler (Chris). Matt was using some Cortech soft bags and a dry bag for camping gear and that combo served him well. I had a Wolfman Alpha and a similar dry bag. I ended up keeping it a little cocked to the left to avoid the high pipes on the right, but I was happy with that rig as well. First stop after a ride down SR 17 was the Cherry Pocket Fish Camp for
fried gator and grouper sandwiches. It started raining while we were there. We thought about sitting it out (there were 2 for 1 beers after all), but after a check of the weather map we decided to beat feet (uh, wheels) south. We mostly meandered along SR 17/Old 27 through some small towns and more 'historic' (postwar) districts. then starting in Lake Placid strung some county roads together, riding right through sunset through a lot of groves and ranches down to La Belle. We got a little wet, but not too bad and we'd installed our liners, so we were comfortable enough. We planned to camp at Ortona Locks, but it was full when we got there at about 8 PM. They sent us down the road to The Glades RV & Gold Resort. In the process of renting a space at The Glades, the manager mentioned that they were taking over the rodeo grounds next door and she allowed us to set up our tents there. The facilities manager, Tom, directed us out to an empty field, and accommodatingly allowed Matt to fill his air mattress using the truck's tail pipe while we all talked wild boar hunting (not a subject in which Matt or I are too conversant). By the time we'd set up camp, it was about 9 and we were more than ready for dinner. The only game in town (not that there was really a town anyway), is the Gator Bait, so that's where we went. This was definitely off the tourist track, and we met several interesting characters. There wasn't much alternative to standard bar fare, but it hit the spot. Day Two: It was a foggy morning, and took until nearly 10 to dry off our tents, and my sleeping bag (I had slept without the fly on). Once we got on the road, we made a wrong assumption about a county road (they tend to be poorly marked), and after several miles ended up at a dirt turnaround just across a fence from the road we needed to be on. No gate, so we retraced our steps through some nice rural neighborhoods and by the Florida Panther National Wildlife Refuge. We didn't see any panthers, but there is a 12' chain link fence on either side of the highway so that is probably why. Everglades City surprised us a little by being larger than anything we'd seen since Lake Wales – definitely a commercial center for airboat rides! We saw a pretty healthy, six to eight foot alligator sunning himself (herself) on the side of the Tamiami Trail about 25 feet from someone's front yard. After a nice run down the Tamiami Trail, with a detour through a few miles of the Miccosukee reservation (surmising that the expensive European cars in the driveways of otherwise modest South-Florida style houses indicated the existence of a casino, which later proved true), we headed for our planned campsite at Chekika in the Everglades National Park. Unfortunately, the gates were locked and the ranger who appeared explained that it had been closed for several years. After giving us some scare stories about night time activities in the area, he made some calls and found us a campsite at an RV park nearby in Miami. On our way through the Everglades we noted a car driving slowly along the side of the road, and the ranger explained that they were hunting pythons – another reason not to camp there. We made camp and after some deliberation decided to head into South Beach for dinner and people/silicone watching. We finished up our second meal of the day about midnight and took an unplanned, somewhat longer but less trafficked route home. The campsite was comfortable, but the agricultural equipment that started up around 4 AM was not too welcome. Morning brought a dip in the pool, hot showers and saddling up for an uneventful but not particularly scenic ride up to Lake Okeechobee. By mid day we found ourselves hungry and in Belle Glade, a poverty-stricken, somewhat sketchy looking agricultural town just south of the lake. After a circuit of town we determine that lunch options came down to the American Legion's barbecue or Prado's Cuban Cafe. Reassured by the presence of several deputy sheriffs at the Cuban place, we elected to have Ropa Vieja, rice & beans and fried plantain for lunch. A good choice all around, although my 'malted cereal' soda was pretty odd tasting. Although US 441 along the eastern shore of Lake Okeechobee is listed as a seenic highway, that essentially means there are no strip malls. A large levee blocks any view of the lake except for the occasional lock/spillway. We came upon this brand new and essentially unoccupied marina complex in Pahokee and figured it must be some sort of stimulus project, as we also failed to see a single boat on the lake. The scenery wasn't all big piles of dirt, however, and it was a pleasant afternoon ride out to Kissimmee Prairie Preserve State Park north of Okeechobee. The bikes got a number of comments, and succeeding in their mission of making people ask if they were new or restored classics. We had a thoroughly enjoyable afternoon ride, and got the bikes back to Frank with thanks and positive reports. Frank gave us a ride to pick up rental car #2 (this one a convertible Mustang) and we made our way back to Ponce Inlet. All in all, it was a great little getaway adventure. 750 miles over the course of a long weekend is a good test of a bike, and the Scrambler did not disappoint. The ergs were spot on for me, the engine smoother than I expected, and the stock seat tolerable if not plush by any means.
---
Name: John Gili-Ross Date: 3 Nov Subject: The Best Bike Rental in Orlando
Two of us decided we had tried the rest and it was time to try the best when we rented the Bonneville and Thruxton from Frank.  Both bikes were in excellent condition and were a real pleasure to ride.  Frank takes pride in the condition of his bikes and I have never seen a cleaner or more organised garage!  We rented the bikes for 4 days and went to the Daytona October Fest which was an experience not to be missed.  The Triumph's stood out from the sea of Harley's and we had loads of comments from other bikers on our beautiful rides.  Thank you Frank for providing us with a great experience.  I, for, one will be renting from you again.
---
Name: David Elkins Date: 23 Jul Subject: Two weeks on the Scrambler
Stayed in Orlando first two weeks of July, Frank met me at the airport and as always the bike was fully prepared and gleaming!  Did 1400+ miles in 15 days and the bike ran faultlessly.  It did rain several times, but the bike's neutral handling and semi-knobby tyres inspired confidence and I was able to maintain a steady pace even in monsoon conditions.  When it rains in Florida, boy does it rain!  Over the 15 days averaged 50 mpg, yes that's right, I checked it several times on paper, 50 mpg and I was not dwaddling about either, impressive.  The Scrambler stands out and won much approval from passing motorists and truckers alike.  Riding position is ideal for criusing or a quick blast if required, bars and feet fall naturally into place and the seat is comfortable.  Managed to get to Daytona, 4th July at Hollywood Disney, Titusville to see Atlantis finale, 200+ miles to Boynton Beach as well as Miami South Beach.  At the end of the journey you get off and have no aches or pains.  I have a Fireblade back here in the UK and would have to be extracted after 200 miles!!  Great bike, great vacation, Frank as always absolute excellent.  If you haven't rented a Triumph before see Frank – highly recommended!
---
Name: Tom P Date: 18 Jun Subject: Scrambler & Thruxton 24 Hour Rental
I highly recommend Frank's service.  The bikes are flawless and Frank makes it easy to go on a Florida adventure.
---
Name: James Meniates Date: 30 May Subject: 48 hours of Silvia
I picked up the Bonneville on a Friday in Orlando, and took if to Tampa to give my girlfriend a hot ride for her birthday.  The next morning I went from Tampa to Siesta Key at daybreak so that I ended up getting sunrise over the Skyway Bridge.  EPIC on such a classic-looking ride.  300+ miles logged on a gorgeously maintained and wonderful motorcycle.  She was such a brilliant silver color that I ended up calling her Silvia for my all-to-brief time with her.  Frank is great to deal with, and straight forward.  What you see is exactly what you get:  Flawless Modern Classics.
---
Name: Bok Date: 23 May Subject:  Scrambler 24 Hour Rental
I just rented an awesome Scrambler from Frank last Thursday when I was in Orlando. I wish I rented it for my whole stay, maybe next time. I loved everything about it and Frank was especially helpful and accommodating and definitely knows his stuff. He let me try the Bonneville and the Scrambler, I was a little hesitant because of the height, but ended up with the Scrambler and felt comfortable with it. I would definitely be renting from him when I visit Orlando. Thanks Frank! See you soon!
---
Name: Gilson Rolim Date: 23 Mar Subject: Daytona Bike Week Rental
I'm from Brazil and would like to recomend everybody to contact Frank for a real different motorcycle rental.
I have a 09 Tiger 1050 and for me to rent a Thruxton was a great choice. The bike is wonderful, extremely smooth and fast.
Congratulations, Frank, for your service. Just perfect!
---
Name: Parry Date: 6 Mar Subject: Renting Bonneville for the weekend
Just returned the Bonneville. Sad moment. Prices are very reasonable. The whole delivery and pickup is fantastic! Bikes was top notch. Way more fun than any Harley! Ask all the guys riding with me on cruisers! When they caught up to me after a corner. Frank delivered the bike Friday night at 10 pm! I was riding that night! Rode all weekend! RIDE something unique, different and most of all FUN! I'm a Triumph lover now. Next, I rent the Thruxton! Then I will be buying a Triumph! Best riding weekend in 15 years! By the way, Frank answers the phone when you call! Unlike alot of other rental places I called! I will only recommend Frank for bike rentals from here on out! I'll be calling again in a few weeks!
---
Name: Frank Dreano Date: 30 Dec Subject: Triumph Bonneville
I rented a Bonneville from Frank to ride with my brother visiting from out of state with his Harley. I hadn't ridden in 8 years and Frank made sure I was completely comfortable with the rental bike before turning me loose on it. I had a wonderful three days riding around Central Florida and the cost was very reasonable. I plan on doing it again this spring!
---
Name: Carlos Romaguera Date: 13 Dec Subject: My Thruxton rental
While being an owner of an '08 Triumph Tiger, I always wondered what it would be like to ride a Thruxton for an extended period of time. Not only was I very impressed with its handling an overall performance, but also with Frank's knowledge and very friendly service. I was also extremely impressed at how spotless and top notch condition the bikes really are, he takes care of them to no end. I highly recommend Frank's service to anyone interested in having a real blast, at a very reasonable rate. When my biker friends from out of town come visit, I will gladly suggest they rent one of his bikes to go have a good time. Very well done Frank!
---
Name: Gerry E. Date: 14 Nov Subject: Bonneville Rental
I rented a Triumph Bonneville from Frank in Nov. 2010. I was impressed not only by the motorcycle, but his personality and his knowledge of the Bonneville. The Bonneville I rented ran like a dream. If I had any doubts about my rental, it all went away when I took a couple of laps around the parking lot to get used to the bike.
After completing the rental, he gave me suggestions about places to ride as well as helped me get back to the hotel when I was running behind. Frank is a great guy and I highly recommend that if are thinking about renting from him to stop thinking and do it.
Thank you Frank for giving me memories of a great vacation.
---
Name: Charlie A Date: 6 Sep Subject: Bonneville Rental
Frank,
I wanted to thank you again for the excellent ride I had on Saturday. I'm sorry I couldn't be here when you picked up the bike, duty called at work, but it was a great ride. You have a really good business going here and I hope you are successful. I will be in touch and rent again when time allows. The Bonneville was faultless in every way and I enjoyed riding it immensely.
Charlie
---
Name: Chad Date: 27 Aug Subject: Come here if you want to rent a motorcycle
Anyone looking to rent a motorcycle in Central Florida should visit Frank at Modern Classic. I've rented from him several times. e runs a top notch operation. His knowledge of the bikes, customer service friendliness are second to none. He delivers the bike to you on time, and then picks it up. You really can't beat it. HIs Triumphs are in excellent condition and make for a very enjoyable ride. You won't be disappointed if you rent from Modern Classic.
---
Name: David  Date: 22 Jun Subject: Excellent time in Orlando
I just wanted to commend Frank and Modern Classic Rental. I was in Orlando for a convention and only had one day to ride. Frank was there exactly when he said he would be, went over the whole bike and made the experience very good and at an affordable price. It was raining when he dropped off the bike, so my riding time was a bit limited. I still got in a nice ride in the Orlando area, and he picked up the bike the next day, again right on time, which was greatly appreciated since my time was very limited. I would recommend Modern Classic Motorcycle Rental to anyone who rides. Again, thanks Frank
---
Name: Paul  Date: 22 Jun Subject: Thruxton
Thanks Frank! What could be better than exploring Florida on a Triumph? Great service and reasonable prices! All of my friends now have Frank's number for the next time they are in or around Orlando.  The day I spent on the Thruxton was hands down the best day I spent in Florida.  Paul
---
Name: Mike / Key West Date: 27 Mar Subject: Lost Youth
So what about my eight hours and 200 miles on the Thruxton? This is a motorcycle for someone more limber than me and stronger in the wrists, the
newer Thruxtons have lost the clip ons and have rather higher, adjustable bars, much to Frank's disgust. I loved getting to ride the bike even if I now know I did the right thing by being sensible and buying the "regular" Bonneville, upright seating position and all. I'm not 19 any more and it's time I realized that. If I had room for a second bike in the garage I don't have, I'd love one of these for my occasional blast around the mountain rides that don't exist in the Keys…
It's stupid and sentimental of me I know but I love this bike. Before I took it back to Frank I sat and stared at it for fifteen minutes. I know its a factory café racer which is a contradiction in terms for the people who used to build their own in the 1960s but Triumph have really hit the nail on the head with this machine, no longer directly produced with carburettors and clip-ons, and thus so much more precious because of it.
As for Modern Classic Motorcycle Rentals you need to call Frank the next time you are in Orlando and he will deliver your bike to your location anywhere around the city, for as long or as short as you want it. He loves these bikes and wants you to love them too. Check it out at motorcyclerentalorlando.com or by phone at 407 583 6988 and I know you will have as much fun checking out your dream bike as I did. Next time I'm going to take a step ladder and check out how I do on the Scrambler and I'm going to get Frank to show me his favorite road. He's also thinking about expanding his fleet and I want first dibs on a Royal Enfield or the Harley XR1200 if gets his hands on those. I can't wait.
---
Name: Graham Child Date: 21 Mar Subject: Orlando to Key West – Triumph Scrambler
Mike and I rented the Scrambler and the Thruxton for a trip out of Orlando down the Gulf coast, across the Tamiami Trail and down the Keys to Key West. We returned to Orlando via Lake Okeechobee a total of just over 1,000 miles. The bikes ran faultlessly throughout the trip and were the centre of attention whenever we stopped. The Scrambler in particular was very popular. Many of the remarks centered around the fact they either used to have one of the original Triumphs or knew someone who did. All in all a great trip made better by the easy to ride distinctive bikes. If you are thinking of renting bikes in Florida stand out from the crowd and go see Frank. As we flew in from England we needed a reliable supplier and I can't praise Frank enough he turned the bikes out faultlessly, answered all our e mail queries before we arrived and was reliable and helpful throughout. Top marks.
---
Name: Mike Date: 11 Mar Subject: Ride to Key West – Thruxton
A big thank you to Frank at Modern Classic Motorcycles for making it possible for us to ride a Scrambler and Thruxton from Orlando to Key West and back (just over 1,000 miles). The preparation of the bikes was superb and Frank looked after us extremely well at both ends of our trip. The bikes performed perfectly never missing a beat and attracted lots of attention wherever we went. All in all an outstanding experience. Thanks again ! Mike